The Center for Disability Resources (CDR) would like to formally recognize individual faculty and staff who go above and beyond for students. Although it is a collaborative effort, there are individuals who have exceeded our expectations and embrace our culture of empowering students, inclusion, and celebrating the uncelebrated.
CDR looks to students to submit their nominations for Faculty and Staff who have gone above and beyond with supporting students.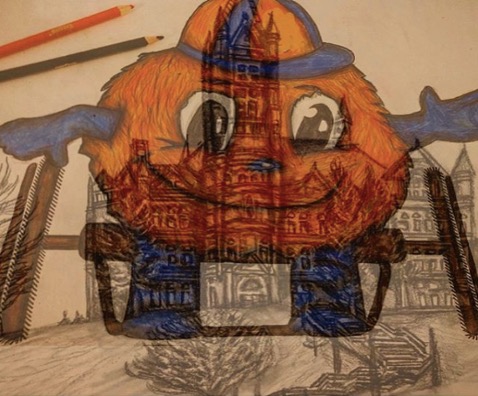 Although we were not able to physically gather for our Annual Faculty and Staff Recognition Ceremony this year, we still wanted to recognize the following individuals who were nominated for their exemplary support to The Center for Disability Resources and to our students.
Thank you for partnering with us in our mission to empower students, enhance equity, and provide a platform for innovation and inclusion.
Dessa Bergen-Cico, faculty, Falk College
"Not only does Professor Bergen-Cico go above and beyond to deliver engaging course content, but she also ensures that the class remains aware of pressing issues involving social justice and substance abuse. She truly allows for all students to feel accepted in her class, and she has been one of few professors who has demonstrated that they believe in my academic potential. In fact, because of her sincere passion for addiction studies that is evident in her course material, she has inspired me to seek out research opportunities in the field."
 Joseph Godlewski, faculty, School of Architecture
"Professor Godlewski was very enthusiastic about meeting with me to discuss my accommodations. I have had to invoke them a few times this semester, and every time he is understanding and encouraging. As a professor, he makes his students feel welcome and makes sure we know that our mental health is a priority for him. He follows Architecture School mandated No-Studio-Deadline weeks very strictly, as he does not want to overwhelm us. He is also very in tune with our mental states as students and even assigns less work on when he knows that we are all feeling burn out. He encourages my classmates and me to be open and honest with him, and he respects our personal struggles as being important."
Jonathan French, faculty, College of Arts & Sciences
Nominated (2x)
"He is an incredible teacher, so patient with students, and will take the time to explain concepts to students who are struggling."
"Dr. Jonathan French did not hesitate for even a second when I approached him to discuss issues I was having with his class due to my disabilities at the start of the semester.  Instead of sounding unsure and skeptical and bombarding me with questions, he immediately asked, "What do you need to make sure that you succeed in my class?"  He then worked with me to develop a plan and a set of tools and resources for me to use for his class.  He also met with the TA for my recitation section for his class to ensure that she was aware of the situation concerning me and provided the means for either of us to get assistance if there were any issues.  He regularly checked in with me throughout the semester, of his own volition, to ensure that I was not running into any problems.  Although he maintained regular office hours, he was available outside of those hours to discuss any issues or problem areas.  What most impressed and inspired me, was the fact that he gladly did all this for every student in the class, without being asked, and he made sure on regular basis during class times to inform the class that he would do this as well as when he was available for regular sessions (exam review, homework discussions, etc) and how to reach him, or an appropriate point of contact, if there were any pressing concerns.  In every session I attended with him, I received the impression that he truly cared about every one of his students, because he took the time to answer every student's questions thoroughly and made sure that the student was actually understanding the material.  He routinely spent far more time he had scheduled for a session because of this, and it was clear that the students greatly appreciated it.   All of this would have been for nothing if it wasn't for his attitude and approach to teaching.  It was apparent to everyone that he enjoys teaching and his subject, and this came across throughout the entire semester.  His lectures were fun, accessible and fascinating.  He made a point of interacting with students concerning the material being covered during each lecture, and designed nearly all of his lectures so that there was some form of activity or interactive component to give the students exposure to and practice with the concepts being presented.  He taught every lecture with a serious but light-hearted and fun approach that enabled the students to relax and focus on the material.   Dr. French's class and the impressive amount work and effort that he put forth inspired me and provided the motivation I needed to get through a couple of classes that I was struggling to keep up with during that same semester because he made his class an enjoyable one in which I didn't need to worry about whether or not I was learning the material and doing well, because I knew I was. This is why my recommendation goes to Dr. Jonathan French, Chemistry Department, College of Arts and Sciences."
Joel Whitney, Staff, College of Law IT
"Joel is amazing working with faculty, staff and students at COL.  He is always willing to work with any students that get accommodation and is pretty much on call 24/7 if I ever run into issues or problems."
Beth Myers, faculty, School of Education
"Beth was an amazing listener in a difficult time for me. I had major challenges focusing to complete my assignments the semester I had her (but was too overwhelmed to nominate, so here we are). She already has thoroughly read my accommodation letter before the first class period (I've never had any other professor do that), and she already had taken notes on it to ask me for clarification on what certain ones meant. When I vulnerably stated that I simply couldn't get my assignments done because I was struggling to focus, Beth deliberately offered me a space to sit in her office and work while she was there to help me have the accountability I needed to get going on the assignments. She also was extremely open to feedback about how I found a specific reading triggering and really took my feedback and heard it through to improve going forward without being defensive. She also was big on universal design and accessibility. This was incredibly helpful to me! Beth is a huge inspiration!" 
Vanessa Rojas, faculty, SUNY ESF Ranger School
"Dr. Rojas is an incredible professor and scientist whose passion and research has inspired me to learn more about wildlife. She has offered many extracurricular activities for students to get involved with, and even helped us develop the first Ranger School birding club. The Ranger School is a hectic and stressful environment, yet she remains one of the only professors to consistently have clear expectations and assignments, while continually offering help. I would not have made it through this program without her!"
Richard Risman, faculty, College of Law
Nominated (3x)
"Professor Risman is dedicated to ensuring all students have the tools and skills needed to succeed. He is consistently encouraging and always has a kind word of support. Students who encounter him feel like they can conquer any academic task placed before them.  He is a positive spot in my day and my entire academic career."
"Professor Risman is extremely understanding and accommodating. He goes out of his way to extend deadlines, provide additional help, and create an atmosphere that prioritizes the mental health of his students. He has helped me on multiple occasions and has been indescribably understanding about both my unique circumstances and the inherent stress of law school, especially during covid. I cannot express enough how greatly I appreciate Professor Risman and his dedication to his student's well-being."
"Professor Risman goes above and beyond to help his students. He makes himself available at literally anytime to help them with assignments, he offers to communicate by any means and even encourages phone calls to be the clearest, and he will go out of his way to make sure you understand the material and that he answered all your questions."
Nicholas Theisen, faculty, Languages, Lit & Linguistics Department
"Nicholas Theisen teaches several courses on Japanese culture as an adjunct professor at Syracuse University. Taking his LIT 304 course this semester, I began to experience issues in being able to work on my classes early in the semester and have felt pressured throughout most of the spring due to extra-academic circumstances (housing, personal, etc.). Not only has Professor Theisen's course been fascinating, but his approach to deadlines — that is, offering only suggested submission times, rather than enforcing hard due dates — this semester gave me much-needed relief of pressure, which otherwise may have proved too much for me to continue with all of my classes. In addition, I contacted him in the middle of the semester after having problems sitting at my desk long enough to write formal essays (due mainly to back pain), and he was completely willing to take on more work on his end by reviewing recorded video presentations in place of written essays to satisfy his course's syllabus requirements. While I have since recovered enough to write formal essays, Professor Theisen's appreciable and genuinely decent demeanor, refreshing approach to teaching and deadlines, and willingness to provide significant flexibility to his course syllabus compelled me to recommend him for recognition by the Center for Disability Resources."
Jenn M. Jackson, faculty, Political Science Department
"Dr. Jackson's incredible commitment to inclusion and accessibility should not go unnoticed. I had Dr. Jackson my first semester freshman year, and I loved her so much I took another course with her the following semester.
She understands how hard it is to be a student in general and especially during COVID-19, as she prioritizes students' mental health above all else.
Furthermore, she makes lessons, assignments, and class materials accessible through numerous mediums to accommodate every student.
I am inspired by her teaching style and willingness to help engage every student.
Thank you, Dr. Jackson!"
Gregory Block, faculty, School of Information Studies
"I have taken two Graduate Courses with Dr. Gregory Block through the ISchool. He is very patient and takes the time to help students understand concepts while encouraging all to develop an in depth understanding of the subject outside the course requirements. Dr. Block is always willing to take the time to respond to emails, have office hours, and log in to help identify system and coding issues. While supporting individuals, he also encourages students to support each other and is always quick to responded to Microsoft Teams group chats with detail and in a timely manner. His support helps motivate me to continue my higher learning and not be deterred by issues pertaining to my disability. Dr. Block's constant positivity and desire to help all students was inspiring. He truly was inclusive, no matter the student's background. I highly recommend Dr. Gregory Block for his aptitude to meet my specific needs, support my education, and encourage me to continue my passion for learning. He truly goes above and beyond!"
Kenneth Marfilius, faculty, School of Social Work
"Dr. Marfilius has been an incredibly empathetic professor. During my first semester of college, I dealt with serious Imposter Syndrome as a result of my disabilities, but Dr. Marfilius has made me feel just as intelligent and capable as abled students. Additionally, he was incredibly understanding of my needing to miss class due to chronic pain, and for that I will always be grateful. He has not only inspired my passion for pursuing a career in social work, but has also cultivated an environment of acceptance."
Stefanie Pilkay, faculty, School of Social Work
"I believe that Dr. Pilkay deserves to be recognized by the Center for Disability Resources because she is by far one of the best professors, I have had during my 5 years of study at Syracuse University. She goes above and beyond for each and every one of her students. She makes herself available throughout the week and weekend to go over the lectures, assignments, or anything else that we may need help with. She has even offered to assist students with publishing our articles into
peer-reviewed journals, which proves her overall dedication. Because this class is being taught online, she created new assignments to enhance our learning and educational experience. I honestly could go on and on about how incredible Dr. Pilkay is and I guarantee that all of my classmates would wholeheartedly agree. She inspires me to be the best social worker I can be, and she challenges me to think outside of the box. The course I am taking with her is clinical practice evaluation and she was able to make the course fun and enjoyable. Every week I look forward to logging onto zoom because she brings such a happy energy to class and that is something I've desperately needed during this pandemic."
Fatma Sonmez-Leopold, faculty, Whitman School of Management
"For being an adult student, and getting recognized for having accommodations, this professor has seen and helped me for the support I needed. It truly keeps my confidence up when a teacher goes above and beyond to recognize all different types of learning styles."
"Encouraging and showing compassion with the difficulties of finance.  Making the knowledge of finance accessible for the not so quantitative student."
Read more about the Faculty and Staff Recognition Ceremony on SU News!